VITALS


Legacy
1010 Aviation Blvd.
Hermosa Beach, CA 90254
310-379-4401
www.becomefitted.com


Owner: Lionel Eden





What is the concept and mission for Legacy?


The concept of Legacy is simple, to offer unique products while maintaining a high level of exclusivity. This ties in directly with our mission, which is to provide personal customer service and a unique shopping experience for all of our clients.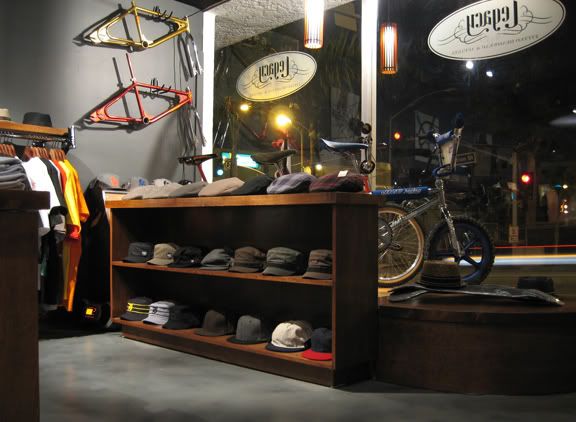 What is the atmosphere of the store like? What can customers expect when they walk in?


Since all of us are collectors of BMX and it's history, we knew vintage BMX needed to be incorporated into the store's design, because it's part of us. So to set the stage for Legacy, I personally designed the fixtures and had a welder fabricate one-off bicycle clothing racks that are reminiscent of a 70's Webco.


We also had a luxury cabinet maker build custom Alder cabinetry complete with a quarter pipe with hidden compartments for storage. The stage was set, for a fresh mix of rare BMX bikes and memorabilia from the 80's along with some of the most limited fitteds and apparel available. Nowhere else in the world can you see all of this under one roof.





What is the fitted game like in Hermosa Beach or in the surrounding areas?


The beach cities were in desperate need of a local spot that carries more exclusive brands and limited gear. We specifically wanted to be away from the hype of Hollywood and the traffic of LA. We're excited to be the first shop of this kind in The South Bay.

What inspired you to want to carry Official?


The limited one time drops got my attention, with their innovative designs and choice fabrics, and once I put my hands on one I knew Official was a perfect match for us.





What's the best selling Official fit in the store or the most anticipated?


The SAS Shemaghs were gone before they hit our stockroom!





Which hat is your personal favorite?


Cabesa de Giorgio, you know…

What trend in the industry do you stay away from?


Custom Team Fitteds. I can get a LA fitted in various colors at any local mall, and I do, but you won't find anything like that at Legacy.

What are your upcoming events & plans?


We have a couple collaborations in the works, fitteds, BMX parts, softgoods, etc… But the one thing I'm really looking forward to is the Retro Cruiser, a limited edition 24" BMX Cruiser with a fitted cap and padset combo.

Thank you Lionel and Chris for all the support you have shown Official since day one!

---
Click the image below to read the previous Top Shop feature on House of Commons in Las Vegas.