Bread & Butter has been real good to Official and this latest show was no exception. Our booth was handled by our European distributor Magseven and the other lines inside the booth were Foreign Family, Akomplice, JB Classics, Homeroom, Cleptomanicx, Triumvir and introducing Dream Team. The booth was well concepted and we had some benches out front that attracted some interesting characters to come kick it in front of our temporary "business making" location.


Got there late the night before the show started and handled my set-up until 1am or so…


"Untitled" set-up… Note the 1000 percent KAWS.


I took Alex from Homeroom and Chris and Tom from Invisible Stripes out to my favorite little build your own falaffel chain (Maos) off La Rambla in the wee hours in the morning. The band of gutter punks literally used one falaffel to feed like 4 of them. For like 45 minutes they'd just keep creeping back in the buffet line and re-upping on peppers and Talini sauce.


Matt and the Invisible Stripes guys holding down the bench out in front of the Magseven booth.


Me and Huy (Dream Team) at the Untitled/Magseven party.


Same photo, just some extra exposures in there that capitalize on the Worldwide T and Dream Team all-over print.


Speaking of Worldwide, you know the Don of Barcie (Ivan SB, Worldwide) couldn't get away without being posted on this site.


This "euro-Bro" had light-up glasses and once I took a photo of him he followed me around for like 20 minutes trying to bro it up. I literally had to leave the room for a bit just to get away.


Chris from Invisible Stripes and Foxy Brown from who knows where…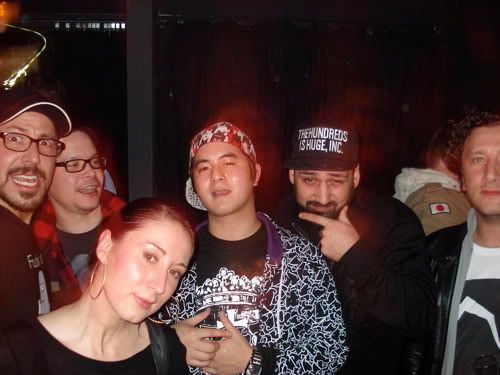 Monika Lewinsky, Huy (Dream Team) and Coskun (Carhartt).


Joey the neu raver from Holland, Isn't that Vierd.


Matt pounding 1 Euro street Estrellas at six in the morning with Frank from Qubic (New Zealand).


Alex distracting the Jager girl while I jacked a bottle to distribute freely on the dancefloor.


Martin the big boss man.


Roland and Mehmet my Magseven homies.


James from Addict and the Thizzinators.


Pat from Akomplice showing us all how Mountain time gets down.


Patta Soundsystem and 2007 DMC World Champion DJ Rafik (on Official flow btw…).


2007 DMC World Champion DJ Rafik.


Our beloved UK Distributor Ross, Tom from Donuts UK and Allen from Orisue.


Huy (DRMTM), Richard (Triumvir), Kazuma (DRMTM) and Matty C from the Official Barcie MACBA murderers.


And I have to end this post with the "suck my dick" bedazzled T I found in the Denim hall.
---